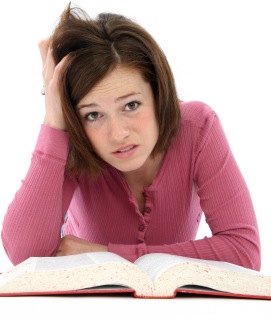 Do you ever ask yourself "Why aren't there more hours in the day?" I've always been busy, detailed-orientated and push myself to make deadlines. As a high school student, I was constantly busy and always looking for more projects. My teachers encouraged me to take on more extracurricular activities, while my parents expected good grades. By my junior year of high school, I was involved in the Drama Club, Scholar's Bowl, editor and report for the Raider Review, Students Who Care, and I worked part-time at a nearby clothing store. Although my grades never suffered, I always felt stressed, tired ,and overworked. Looking back, I should have taken a summer off and just relaxed. Instead of relaxing, I took college classes at the local community college.
According to the 2009 national survey by the American Psychological Association, over 30% of teens feel overwhelmed by school. Young girls are overwhelmed because they believe their parents and teachers expect them to be perfect. Experts believe over-scheduling is the cause for an increase in stress levels among teenage girls. For example, Hannah, a thirteen year-old, told Girls' Life Magazine that she is "freaking out about an application to Harvard and how she's going to up her standardized test scores" ("Generation Stressed," February/March 2010 Issue). Hannah, like many other students, feels the pressure to start preparing for college early. Parent pressure, classroom competition and the desire to be the best may be some of the underlying causes to an overworked and overwhelmed student. Although it is great to be ambitious, stressed students may experience depression, increased anger, less sleep, eating problems and harmful behavior. To learn more, please read an online copy of the Girls' Life article "Generation Stressed."
How can you deal with stress? Instead of hiding your feelings, seek out a guidance counselor or someone you trust. Seeking out support is not complaining. Or you can scale back on your activities. Although I'm still busy, I try not to say yes to every activity my mentors recommend. I'm currently focusing on graduate school, the Girl Museum and working at the library. Sometimes I feel guilty for saying no to projects, but I know both my body and mind need rest to stay healthy. Please read "Help Me Feel Less Stressed" for ideas on how to reduce stress.
-Samantha Bradbeer
Junior Girl
Girl Museum Inc.