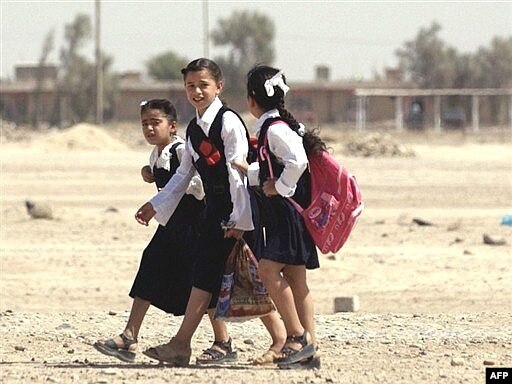 Iraqi girls walking to school.
Rowayda Faris, host of the youth radio show "Shabab al-Nahrein" (The Youth of Two Rivers), recently asked guests and callers to voice their opinions on girls' education in Iraq. Callers discussed whether or not young girls should be prevented from studying in a war zone and how an education can affect marriage prospects.
An anonymous female caller said, "Having a diploma is the same as having a weapon" for women in Iraq. This comment made me feel both empowered and heartbroken for women. If Iraqi girls are receiving a great education, they are gaining self-confidence, the ability to understand their own country's laws, and preventive measures against diseases. However, a girl receiving an education can also be viewed as a double-edge sword in Iraq. One caller's father said, "If a girl studies too much, it will just make people get divorced" and if young men finish school without jobs, "why would we let girls study?" These statements may explain why never enrolling and/or pulling girls out of school early is common in rural areas. To read more about this discussion, please visit "
Iraq on Air: Should Girls Study
?"
Although more and more young girls are being pulled out of school, 100% enrollment rates and high literacy levels were common for both girls and boys in Iraq prior to the Gulf War. Wars and economic problems over the past twenty years have created budget deficits and dilapidated educational institutions, displaced teachers, and forced children into the workforce. While fighting for both rural and urban girls to be allowed to attend school, international agencies have been involved in rebuilding educational programs in Iraq since 2003. Rebuilding, providing security, and collecting school supplies is a great start towards allowing Iraq to reach high enrollment and completion rates for both boys and girls again. To learn more about rebuilding the educational system in Iraq, please read "
Once Seen As a Model, Iraq Struggles To Rebuild Its Education System
."
-Samantha Bradbeer
Junior Girl
Girl Museum Inc.