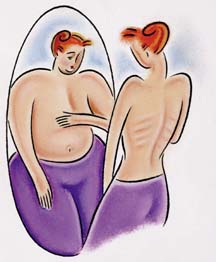 Eating disorders come about in a variety of ways: stress, a desire to exert control of an aspect of one's life, low self-esteem, desire for acceptance, and many other reasons exist. Teenagers are particularly at risk, as the teenage years are tough, what with school and activities, trying to fit in and be popular, and trying to find one's place in the world. Add into that the hormones of the age, and it's no wonder than so many teens develop an eating disorder.
Unreasonable concern about a specific body part
Eating rituals that are new or different
A change in posture or clothing style
A desire to be alone, particularly while eating or immediately after, or secrecy in eating and exercise habits
Becoming increasingly self-concious
Negative comments about oneself's and looks
Dramatic weight loss or fluctuations
Moodiness
-Katie Weidmann
Junior Girl
Girl Museum Inc.