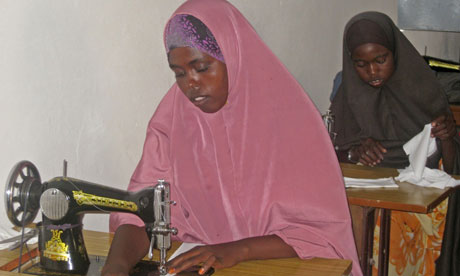 Fartun Abdi Hashi at work. Photograph: Abdi Hassan/IRIN
In Somalia, when a girl gets her period, she will often need to miss school or work because of a lack of sanitary supplies. Out of embarrassment and shame, girls miss out on education, sometimes dropping out altogether, because makeshift pads of paper and leaves are ineffective.
The
Galkayo Education Centre for Peace and Development
(GECPD) is changing that. With support from a variety of agencies, including Unicef and UNHCR, GECPD has been able to
employ young women to made sanitary pads
. The GECPD educates at least 800 girls, and at any point 7-8% of the girls have their period. With so many girls missing classes or feeling they needed to drop out, in 2009 GECPD decided to take matters into their own hands and keep the girls in school.
Besides ensuring girls receive an uninterrupted education, the project also provides much needed jobs for 60 girls and young women, who are able to make on average 20 to 30 pads each day. These much needed jobs mean the girls can help provide for their families, as they make about $150 a month. Plus, the majority of the material for the pads is locally sourced, and they are reusable. They are also cheaper than imported pads, selling for half the price. The packages GECPD make come with 6 sanitary pads and two pairs of underwear.
The packages have changed many girls lives for the better: as 17 year old Bureqo Ali, one of the girls employed by the project says, "We are wearing them and making a living out of it. It is a wonderful feeling."
-Katie Weidmann
Junior Girl
Girl Museum Inc.