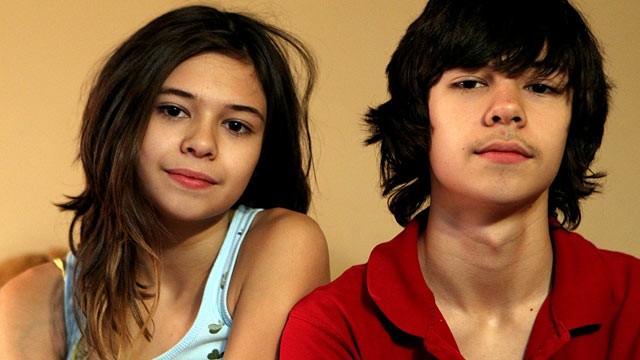 Identical 14-year-old twins Nicole and Jonas Maines.
Suzanne Kreiter/The Boston Globe/Getty Images
Nicole and Jonas Maines were born as identical twin boys Wyatt and Jonas Maines. But from a very young age, Wyatt identified as a girl and hated his penis, while Jonas played and acted as a traditional boy. Although their
parents struggled with Wyatt's inclinations
early on, they grew to accept, support, and love Nicole,
something that many transgender teens do not have
. Now 14 years old, the twins are in a new school in a new town, both of them having been bullied and threatened, in part because of which bathroom Nicole's used at school.
Nicole and Jonas are helping to shed light on issues of gender identity because they are identical twins and have the same DNA, helping to confirm, along with neurological studies, that people who have gender identity issues seem to be "
wired differently
." Nicole is receiving further help from the
Gender Management Service (GeMS)
at Children's Hospital Boston, which is "dedicated to providing care and support to infants, children, adolescents and young adults with gender identity disorder (GID) or disorders of sexual differentiation (DSDs)." GeMS is the first program of any size to focus on identity issues in children and adolescents in the United States, and with their assistance, Nicole is undergoing the first (reversible) steps toward gender reassignment surgery at the age of 18. Because
the vast majority of children
(about 80%) who identify as another gender will eventually identify as their biological gender, the early steps toward reassignment surgery are delayed until the onset of puberty, which is blocked to stop the secondary sexual characteristics (like male body hair). Transgendered patients like Nicole receive counselling throughout the process, and should they so choose, the process is reversible until surgery.
Regardless of Nicole's final decision, she and her family have shed light on the topic of transgender children and teens, and have done so with strength and grace. If you or someone you know is having trouble dealing with their sexuality or gender identity, please visit the
GLBT National Help Center
.
-Katie Weidmann
Junior Girl
Girl Museum Inc.