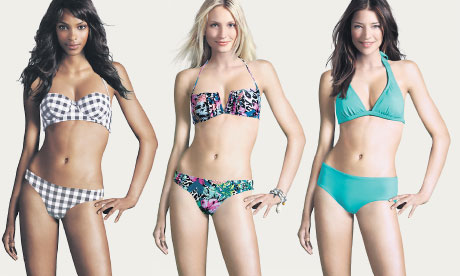 Spot the difference: the mannequin models in H&M's campaign. Photograph: ABC
I wish I looked this good in a bikini.
Three gorgeous girls with flawless figures: skinny limbs, flat stomachs and perfectly poised. When they look this good, how can I possibly compete with my curvy hips and wobbly tummy?
This reaction is one most girls can relate to when looking at the latest fashion magazines. But look a little bit closer at this H&M advert and the perfection seems too, well, perfect: the women's skin is too smooth and their poses too similar. Far from being examples of the fit and healthy bodies which we could aspire to, the women aren't real at all. Instead they are computer generated mannequins with real life faces cleverly photo-shopped over the top create an "individual" feel.
When news of the true identity of the Swedish company's latest internet models broke, H&M's use of these CGI bodies was quickly condemned by body focus action groups such as the
Campaign for Body Confidence
. Co-founder Jo Swinson (MP) argued that "the fact that H&M has resorted to modelling their clothes using computer–generated bodies tells you everything you need to know about the fashion industry's current obsession with idealised and biologically impossible bodies." However,
H&M hit back
, claiming that the use of virtual models was common practice and that their use "is not to be seen as conveying a specific ideal or body type, but merely a technique to show our garments."
The fashion industry is no stranger to controversy. A
recent poll of UK Members of Parliament
found that 53% of them viewed the fashion industry as being directly responsible for contributing to negative body image among the British public. The air-brushing of models has long been the norm in advertising campaigns and has attracted much criticism for setting an unattainable goal for young girls. With the advance of technology, however, the women modelling the latest designer wear can be created from a computer programmer's imagination. When the female figure is controlled down to the last pixel, what chance do girls have of accepting their bodies for what they really are: flesh, blood, and beautiful?
The UK government's
All-Party Parliamentary Group (APPG) on Body Image
, set up in April 2011 as a cross-party Parliamentary forum for debate, is currently conducting an inquiry into the causes and consequences of body image anxiety. If you have concerns about the images being presented to girls through media advertising, you can register your views
here
.
-Vhari Finch
Junior Girl
Girl Museum Inc.