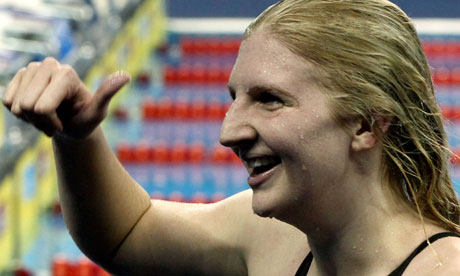 Rebecca Adlington celebrates her gold medal win in the 800m freestyle.
Photograph: Barbara Walton/EPA
Last month, I and many others were shocked to find that the
BBC 2011 British Sports Personality of the Year
award did not include any women on its shortlist. It hadn't been a bad year for
British women in sports
—Gymnast Beth Tweddle won her third successive European title and Rebecca Adlington claimed gold in the swimming world championships then was
rewarded with various awards for sportswoman of the year
—yet this was not enough to shortlist for the main sporting accolade. Perhaps the reason for this (or excuse) was that 2011 was not an Olympic year. Women's sports were not publicised and so less people would have been aware of their achievements. It is not only swimmers or gymnasts that suffer; ask people to name women cricketers, golfers, or football (soccer) players and many would struggle.
Why is it though that women's sports are not publicised? Men's sports get a vast amount of TV coverage. We have the football and rugby world cups, cricket, golf, even cycling gets good air time, but when we look for the same sports with women competing, they are nowhere to be seen. It is not that women don't compete at a world class level. England alone has one of the world's best women's cricket teams, some fantastic football (soccer) players and a formidable women's rugby team, but TV companies and sponsors
believe the audiences for these sports are not there
. This is starting to have a knock on effect for women's sport at lower levels. The
Women's Sports and Fitness Foundation
(WSFF) tell us that "young women leave school half as active as young men."
Men are frequently reminded that they can make a living from sport whereas for many women it doesn't even cross their mind. Not only has the pay for women sports people been considerably less (only recently did Wimbledon decide to offer the
same prize money for their male and female
tennis stars) but they have far less investment due to lack of publicity. The audiences aren't there at the moment because neither is the marketing.
-Emma Hatherall
Junior Girl
Girl Museum Inc.