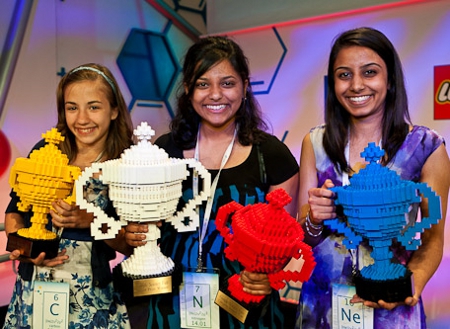 Winners (from left to right): Lauren Hodge, Shree Bose, Naomi Shah.
http://students.egfi-k12.org/girls-sweep-google-science-fair/
Last year, Google held its
first annual Science Fair
, a global online science competition for 13-18 year olds. Over 10,000 students from 92 countries submitted science projects seeking to answer questions such as "Can I program a robot in English?" to "How does marinade affect carcinogen levels in grilled chicken?" Three winners were chosen by age category, and all three were girls. Lauren Hodge won the 13-14 age category with her project to study the effect different marinades have on the carcinogen (any agent that can directly cause cancer) levels in grilled chicken. Naomi Shah won the 15-16 age category by attempting to prove that making even minor changes to indoor air quality can reduce an asthmatic's reliance on medication. Shree Bose won the 17-18 age category by discovering a way to improve ovarian cancer treatment for patients who have built up resistance to certain chemotherapy drugs.
Shree was also a grand prize winner and received a $50,000 scholarship, a trip to the Galápagos Islands with a National Geographic Explorer, and an internship at CERN. Naomi and Lauren each received $25,000 scholarships and internships at Google and LEGO - I think we can all agree that those are some amazing prizes! They also participated in the TED Women conference last December. You can watch their presentations
here
. What struck me watching these girls present their ideas was how confident, smart, passionate, and driven they were. They are truly inspiring and I'm sure that they have a lot more to give the world.
Google is running the
competition
again this year, offering the same amazing scholarship funds and internships as last year. There is also an additional Science in Action prize, sponsored by Scientific American, who will provide the winner with $50,000 in funding and a year's mentoring. Entry for the competition ends April 1st, so now is the time to get your thinking caps on and show the world for the second year in a row what girls can do with science!
-Sarah Jackson
Junior Girl
Girl Museum Inc.