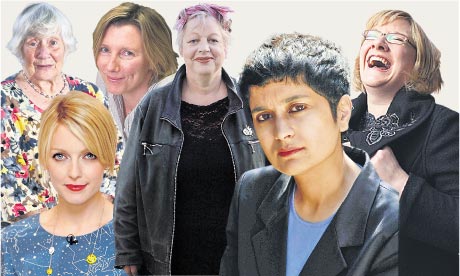 Shirley Williams, Sarah Montague, Jo Brand, Sarah Millican, Shami Chakrabarti and Lauren Laverne.
Following a number of scandals, Conservative MP Nadine Dorries has vowed to
end a culture of "sexism and ageism" at the BBC
. The case that allegedly first sparked these accusations was
the April 2007 axing of Moira Stuart
(55), the first black female newsreader on television, after over twenty years of broadcasting. In November 2008, four female
Countryfile
presenters (Michaela Strachan, Charlotte Smith, Miriam O'Reilly, and Juliet Morris), all in their 40s and 50s, were dismissed from the programme, leading to
more outcries against ageism
. O'Reilly was
subsequently successful
in an age discrimination case against the Corporation, but not sex discrimination. Further controversy came in July 2009 when choreographer and judge
Arlene Phillips (66) was replaced
on the
Strictly Come Dancing
panel by Alesha Dixon, a pop-star half her age. The men on the show are Len Goodman (65), Bruno Tonioli (53), Craig Revel Horwood (44), and Bruce Forsyth (81). More recently, the
BBC Sports Personality of the Year
nominations were also criticised for failing to include any women on its shortlist.
There is a disproportionate lack of women in all aspects of the media and
research
conducted by The Guardian newspaper found that in any given month, '78% of newspaper articles are written by men, 72% of
Question Time
contributors are men and 84% of reporters and guests on Radio 4's
Today
show are men.' Dorries claims that if female presenters are selected, they are generally sidelined to weekend or early-hour programmes and that there is an "unchallenged format" of pairing a young, blonde presenter with an older male counterpart. As a result, this compromises the female presenter as the public may view her as inexperienced and lacking in real authority, therefore marginalising her comments and opinions.
What is peculiar is that 50% of BBC Trust and 42% of its executive board are female. So the question is, why isn't this reflected in the number of women seen on our screens? One proposed reason is that women are much more heavily criticised in comparison to men. Moreover, the lack of women in the public eye means that other girls and women have no role models to identify with, and no examples to aspire to. Culture Minister Ed Vaizey has also sworn to address the issue and states, "It is an issue that we must keep pressing at... We want to hear a balance of voices on the radio and to see a balance of presenters on the television."
However, gender balance is the beginning of what needs to be addressed. Women of all ages, backgrounds and ethnicity need to be both seen and heard with or without their male counterparts.
-Sinny Cheung
Junior Girl
Girl Museum Inc.