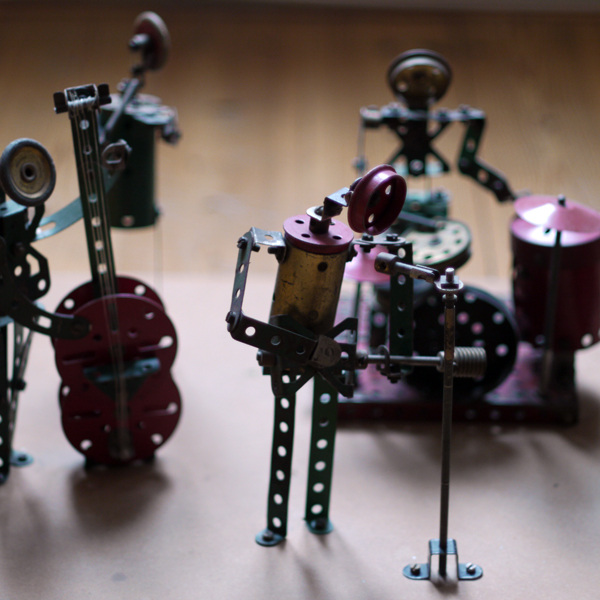 Erector Set, oil on canvas, 100x100cm by Dirk Polak.
Earlier this year, Ceri wrote about the new cliché
Legos for girls
. I thought it would suit if a similar glance was cast at Lego's predecessors: the so called Mechanics Made Easy and later
Meccano
, a real breakthrough in educational toy manufacture. Each kit consisted of nuts, bolts, tools like spanners, and pieces of colored perforated strips and plates made of tin, with which ingenious kids could build steam engines or mechanical constructions.
Frank Hornby produced the first sets in 1901 aiming "for the engineers of tomorrow;" by 1914 there was a large factory based in Liverpool, UK and nine years later the monthly Meccano magazine was issued, filled with instructions and examples of working models. The company survived the First World War and along the way many changes in the parts' colours and metallic elements, until 1980 when the Liverpool plant was officially closed. Meccano sets are still manufactured by the original French subsidiary, by Exacto Ltd of Buenos Aires in Argentina, and they are also found with the brand name
Erector Set
.
It comes as no surprise that Meccano constructions had a
strong impact on children's lives
and their later career choices, mainly because they changed their way of thinking while providing them with numerous possibilities of building and reinventing themselves. As an example of this effect, Graham Greene, one of the greatest authors of the 20th century, in the first chapter of his novel
The Power and the Glory
(1940) cites a Meccano toy, when Mr. Tench the unhappy English dentist recalls how he became a dentist like his father: "They tried to tempt him with Meccano: but fate had struck. There is always one moment in childhood when the door opens and lets the future in."
In 1977, an old booklet of a Meccano construction box became the ground for Dirk Polak to start up painting and shape the music group
Mecano
, the Dutch band-milestone in the music scene of the post-punk era (plus the most profound influence during my adolescent years and still!). Words may fail to describe the sui generis rendering of the verses, sang out by
Dirk Polak's
impeccably assertive voice, or his constructive ability in coining new phrasings. For what it's worth, he is a musical genius, an epic performer that turns every single listening into a lifetime's experience and a restlessly productive artist. Polak's music and artworks are obviously provoked by the concepts and structures of the Meccano toys, therefore so amazingly innovative.
Apparently, Meccano's corporate members thought that girls deserve a chance to these revolutionary games and
launched a new range
in June 2010. Just the likewise Lego range designed with girls in mind, the Pink Construction Tool Box includes parts for them to build more 'refined' vehicles and is sparkling girlish. How exactly a girl with an inclination to construction sets would care if her tool boxes were pink and shiny is beyond me. Meccano is a classic educational procedure that helps kids to develop confidence, self-discipline, and coordination skills. Why exclude girls from this learning opportunity or create for them another stereotypical experience? Maybe next time give girls an actual chance and loose the glittery pink accessories, because all they need is just imaginative toys!
-Magda Repouskou
Junior Girl
Girl Museum Inc.