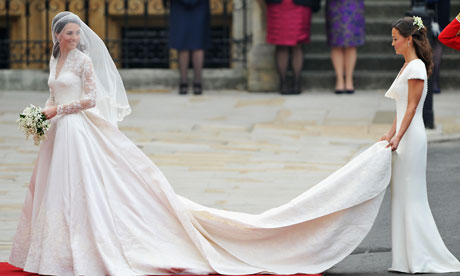 The Duchess of Cambridge and her sister, Pippa Middleton.
Photograph: Pascal Le Segretain/Getty Images
A while back I came upon this year's TIME magazine list of
The 100 Most Influential People in the World
. Among very interesting personalities, scientists, and overachievers, I was surprised to see the names of Kate and Pippa Middleton. It is obvious that they have accomplished strong recognition over the last year, but the Middleton sisters are considered some of the most influential people on the globe? Really? The author of the article calls them '
avatars of aspiration
,' seeing their humble bourgeoisie upgraded to a palatial status.
No doubt that media marketing is in demand of duchesses, princes and royal weddings; I am pretty sure the rest of the world isn't though. It is theatrical to watch two girls from next door as they rise in class and power, on the other hand the impact of this superficial way of living is scary. From the glamorous wedding and the meticulous examination of the outfits, to the provenance of the duchess' dresses in each upcoming appearance and the analysis of Pippa's new ventures,
they are continually watched
. So, besides the triumphant entrance into the royal family, what is the actual reason that the Middletons are praiseworthy or influential? Maybe they will provide us with a good reason in the future.
Until then, times are harsh and the world is facing enough challenges as it is. We'd better make our icons worth our admiration. Young girls should know better than hope to find a rich 'prince charming' or emulate Kate's and Pippa's latest fashion statements in order to feel of some importance. In the era of technology and information let's not get carried away by meaningless standards, because there goes wasted any viable chance to make a difference based on own merits.