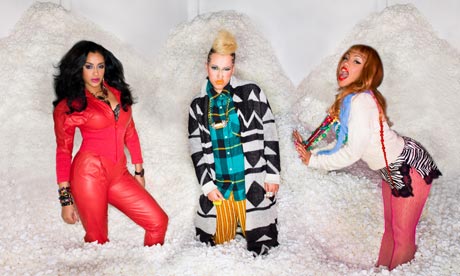 'We're three girls who live by no rules' (left to right): Stooshe's Alex, Courtney, and Karis.
Despite urban British pop not being amongst my usual music tastes, I have recently become very interested in new generation girl band Stooshe, who have no qualms about swearing and are not afraid to sing about the reality of urban Britain. Recently making the shortlist for the
BBC Sound of 2012
artists, they have brought 90s flavour urban pop bang up to date; mixing a taste of TLC, a pinch of Salt-n-Pepa, and blending in some early Will Smith influences.
In a
recent article
, the girls revealed the Spice Girls as their inspiration and I can see the similarities – both groups have a fun image but sing about real girl issues in a way that girls would talk about them on the street. Despite the vast amount of bad language in Stooshe's lyrics their songs are about real situations; for instance their single 'Betty Woz Gone' was based on a true story and involves the rarely sung about subject of drug addiction and its consequences.
For obvious reasons many of their singles have been watered down for radio but the strength of the subjects remain. What may be 'too hard to hear' for some ears is also voicing serious problems and views that are apparent in today's society. These girls obviously have talent and I admire their courage to go out there and just be themselves. I look forward tracking their progress through the music scene.
You can watch the music video of Stooshe's 'Black Heart'
here
.

-Emma Hatherall
Junior Girl
Girl Museum Inc.