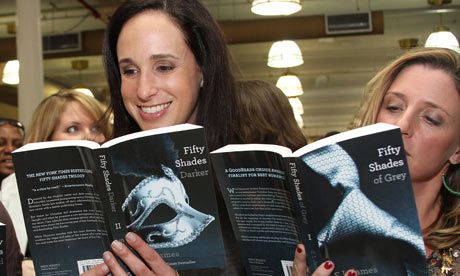 Fifty Shades of Grey this month became the fastest-selling paperback since records began.
Photograph: Rob Kim/Getty Images
It is the book everyone is talking about, has sold over 10 million copies since being published in March and is the
fastest selling e-book ever
; I'm talking about the
Fifty Shades of Grey
trilogy by E. L. James. The trilogy is about a young English Literature graduate, Anastasia Steele, who meets the young, rich, and good looking Christian Grey when she interviews him as a favour for a friend. Inevitably, she gets mixed up in his
world of many shades
. Filled to the rafters with sex scenes, fetishes, and BDSM, the books have been
surrounded with controversy
and brought what has been called 'porn' by some into the mainstream. Is it really that bad?
I admit I got sucked into the hype and the first book in particular has some scenes that are intended to shock, but having just finished the last in the series I have to say that I was mildly underwhelmed and disappointed with the ending. Although they may not be linguistically exquisite in their writing they are certainly an easy read, and popular because they play to the fantasies of many women – girl meets handsome, rich, powerful man who falls in love with her, educates her sexually and lavishes her with all she could want. However what could have been a thriller of a story turns out to be more of a modern Jane Austin with a few saucy bits thrown in.
As to whether young girls should be reading this – inevitably it would be pointless trying to stop them getting their hands on a copy – the romance and the story is still present in these books but
parents should be wary
. The plus points however are that young girls who would never even pause near a bookshop are reading, the books promote responsibility and safe sex – oh and you finally know why Ann Summers (a lingerie and adult shop) are selling so many sets of handcuffs!
-Emma Hatherall
Junior Girl
Girl Museum Inc.