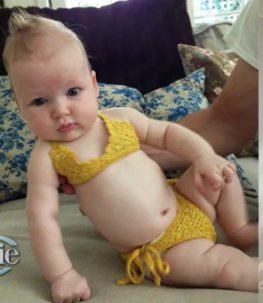 Jessica Simpson's 4 month old baby, Maxwell.
Jessica Simpson caused outrage recently after showing the picture above of her four month old daughter Maxwell in a bikini. British Child Welfare group Kidscape accused the star of sexualising her child too soon and called the image "
totally inappropriate
."
How though is this image any different from those of kids running around at the beach in just a nappy or knickers? Perhaps it is the pose in which the baby is being held, hinting perhaps at a one of
Jessica's own centrefold shoots
. At four months though, with all that cute baby fat can anyone be sexualised?
Many
people disagree
with the backlash Jessica has received seeing the bikini for what it was intended–a
cute outfit in which to dress up
a little girl. I for one remembering sporting a bikini when very young, they have been around for a long time and perhaps it is only the nature of the media nowadays that means everything is viewed in a more sordid light.
-Emma Hatherall
Junior Girl
Girl Museum Inc.