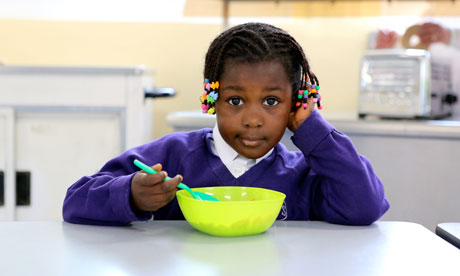 Breakfast at Keyworth primary in Kennington, south London.
Photograph: Richard Saker for Observer Food Monthly
Now that the euphoria of the Olympics and Paralympics is beginning to wear off in the UK, the media's attention is starting to return to the far gloomier news that the continued recession is bringing us. There have been many articles in the press on the increased pressure being felt by food banks as more and more families are
finding themselves unable to stretch their budgets to buy even staple foods
. Earlier in the year, the Royal College of GPs, the National Association of Head Teachers and the Royal College of Paediatrics and Child Health called on the UK government to give the
1.3 million children already entitled to a free midday meal
at school a free breakfast too. At the moment, MPs are saying there are no plans to make this a reality.
Breakfast, we are frequently told, is the most important meal of the day, but there are perhaps millions of children who are not receiving it. A new survey by the Guardian Teacher Network has revealed that 83% of teachers were seeing children coming to school hungry and
almost 50% admitted to using their own money
to buy children food. For these reasons, it is obvious why school breakfast clubs are so important. For parents whose working hours make it difficult for them to prepare breakfast at home, or with little money to spend on food, a breakfast club not only provides their child with a nutritious start to the day, but also an opportunity to socialise with friends before school. There is also an educational benefit; figures gathered by the charity
Magic Breakfast
show that 88% of schools questioned said that the breakfast club had led to improved attendance and attainment.
Unfortunately, charities and local authorities alike are now struggling to provide children with this vital service as funding dries up while need increases. It seems crazy and shameful to me that after such a spectacular summer, children in the UK are suffering from a lack of such a basic need. As much as I loved the Olympics, I can't help but think of the injustice that at the same time that so much money was being poured into East London, so many local children are going hungry.
For more information on Magic Breakfast and how you can help them, please click
here
.
-Sarah Jackson
Junior Girl
Girl Museum Inc.
Tags: Sarah Jackson, breakfast clubs, school, food, recession, UK