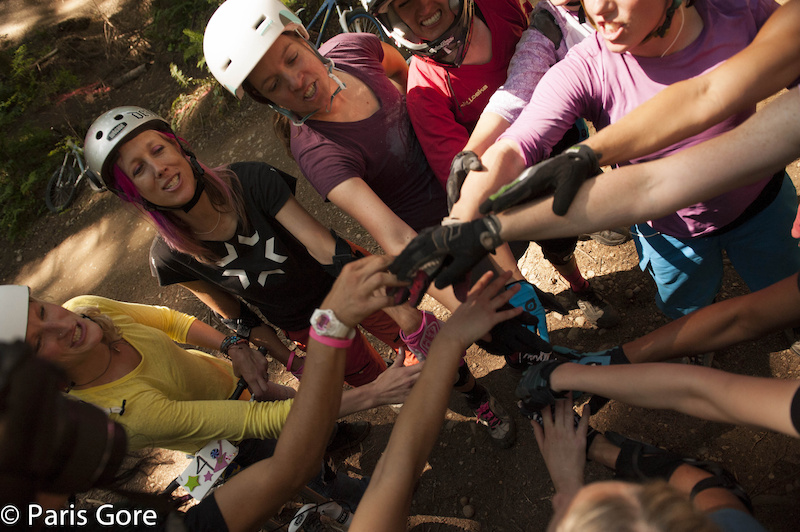 Pro Riders at Sugar Showdown 2012 at Duthie Hill in Issaquah, WA, USA
Like any typical young girl growing up in the UK, I had a bike. Mine wasn't pink with flowers, though: it was luminous yellow with bees on it and a bell which sounded like a doorbell ringing. I got off to a shaky start but once I got the stabilisers off, I was quite content to while away a long afternoon cycling in concentric circles round our cul-de-sac with the other local kids.
It's probably a familiar story to many of us: the wobbly experience of riding our first proper bike. My problem is that I never really got far past that initial "Yay, I can go all by myself" stage. My family didn't really do bike rides and the one attempt I made at going down a proper hill I remember starting with a thrill and ending with a lot of mud, blood, and scolding from the lady whose prized flowerbeds I had just destroyed.
Fast forward 20 years and I'm in a long term relationship with a man who is, quite simply, mad about bikes. Our small flat plays host to on average 4 or 5 bicycles (not counting the big boxes of bike bits which are apparently essential and follow us wherever we go). I have cringed my way through countless mountain bike films and can now identify the forks, headset, and derailleur on each of the aforementioned bi-wheeled contraptions. He races, builds, and works with bikes. So you can imagine his horror when on our first summer holiday together he found me nervously edging my way down the smooth road of the giant Alpine mountain instead of his chosen "easy trail" over rocks, tree roots, jumps, and drops.
Since then, my long suffering partner has made it his slow, seemingly impossible mission to convince me that mountain biking is not just for idiot boys who like to throw themselves wheels-first off of cliffs for fun. I haven't been the best student, but I've appreciated each beautiful hand-built bike and have tried my best not to fall off. There have been arguments, huffs, and laughs as I've pushed up mud slicks and whimpered taking downhill corners at "speed." Slow progress.
I'm still happier on the flat, but recently I've been inspired by a group of American riders who are claiming the mountains for us girls. The competitors at the Sugar Showdown event in Washington this summer were treated to a two-day all female competition and coaching clinic. The event was hosted by
Sweetlines
and was captured on film. Now a documentary,
If She Can Do It
premiered on Thursday, 15th November.
Sweetlines founder Kat Sweet sums up the importance of films like this in encouraging girls to have a go: "The significance of this film is enormous for the women of freeride...This demographic has been largely overlooked by the bike industry for a long time, and people want to see women riding bikes, supporting and pushing each other, but keeping it fun."
Watching the trailer, I have to admit that those big hills look like a lot of fun. Hopefully, seeing strong women take on these bike trails will inspire a whole new generation of little girls to get out and have a go. As for me, I'm now harbouring a secret desire to fly off the edge of a drop and plunge down a mountain over rocks and through the trees. Just whatever you do, don't tell my partner . . . yet. I've got some slight inclines to conquer first!
-Vhari Finch
Junior Girl
Girl Museum Inc.