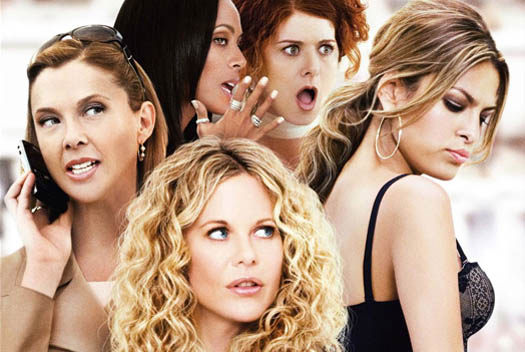 The cast of The Women (2008)
In 2008, a remake of the 1939 film
The Women
was released. I recently watched the film with no preconceptions or any idea about the premise of the story, and it was not until the very end did I realise the film had no male cast members: the only male extra was the baby at the very end of the film. The film's director, Diane English, fought a 14-year battle to revive the film, her struggle being that it was believed by the film industry that
the all-female cast would not appeal
to young men.
The original and remake films both run along the story of gossip; Mary Haines learns of her husband's affair through the manicurist at a salon and the film is
centered around her decision
of what to do about it and the women who influence that decision. Although the reviews for the 2008 film starring Meg Ryan
may not be flattering
, the original idea of having a storyline that revolves around men and relationships but without a single man being seen on screen–although they are referred to several times–is interesting and works. The original film, directed by George Cukor, stars Norma Shearer, Joan Crawford, and Rosalind Russell, and has such attention to detail that even the
props only feature females
. Despite the battle the 2008 film took to get made I feel that the idea probably does work better on the stage rather than on the screen, but it is an interesting concept to take on in any format.
-Emma Hatherall
Junior Girl
Girl Museum Inc.