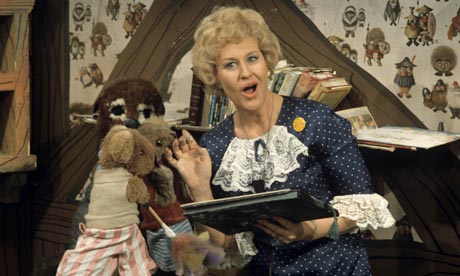 Jean Morton with the koala puppets. The Tingha and Tucker fanclub attracted 750,000 members.
A couple of days of catching the remaining minutes of children's television and I began to notice that I had seen no female presenters, so I looked into it further. I found they have no regular female presenters heading up the CBBC Office and have not had any since 2008! It seems I am not the only person to have noticed a decline in female children's television presenters either; the issue was looked into in 2008 and it was found that across the main children's television programmes on the BBC, men were the primary anchors.
Rewind 20 years to the 90s and CBBC was awash with women – Philippa Forrester, Zoe Ball, Anthea Turner, Kirsten O'Brien, Angellica Bell to name but a few. There have been some fantastic female children's TV presenters in the past, including Floella Benjamin who presented Play School in 1976 and Valarie Singleton of Blue Peter; Why then would CBBC let the possibility of finding this kind of talent disappear?
The current format of CBBC harks back to the days of the Broom Cupboard where there is one main presenter and a puppet. Perhaps this is the reason why there are no female presenters to be seen–do they think women cannot work with puppets? I have done some research and found only one female presenter that has worked with puppets–Jean Morton–who presented children's television in the 60s alongside koala puppets Tingha and Tucker and was extremely successful at it. Let us hope that CBBC looks to some of its programmes of the past and present (Blue Peter for example) and remind themselves that women have been and still should be a vital part of children's television.