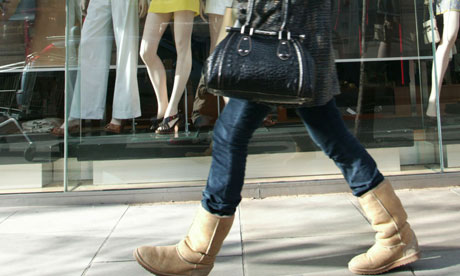 The Ugg boot was once seen on every woman's foot in the high street but recently
sales have started to take a dip
. As much as I love a comfortable shoe I never fell wholeheartedly into the Ugg boot fad and recently, while watching BBC's
Room 101
, I was reminded about what I did not like about them–they make a lazy walker out of women. Have you too noticed that the more you wear an Ugg boot the more you are walking on the side of your foot? I have the same problem with boot slippers–they seem to slide to one side and in doing so
it leads to dragging feet and a poor posture
.
Does this have an effect on later life? We know that wearing the wrong size shoe or wearing heels can cause problems with the lower back. Recently there has been a course which teaches women
how to walk in high heels
so as not to cause any later health problems. Should there be one teaching us how to walk in Uggs as well?
Does it matter what the shoe type as to whether you are a lazy walker? My mother still shouts at me for not picking up my feet–whatever shoes I'm wearing–and for me it's worse in flat shoes. So
are we doomed
whether we wear flats, heels, boots, or any shoes at all?
-Emma Hatherall
Junior Girl
Girl Museum Inc.