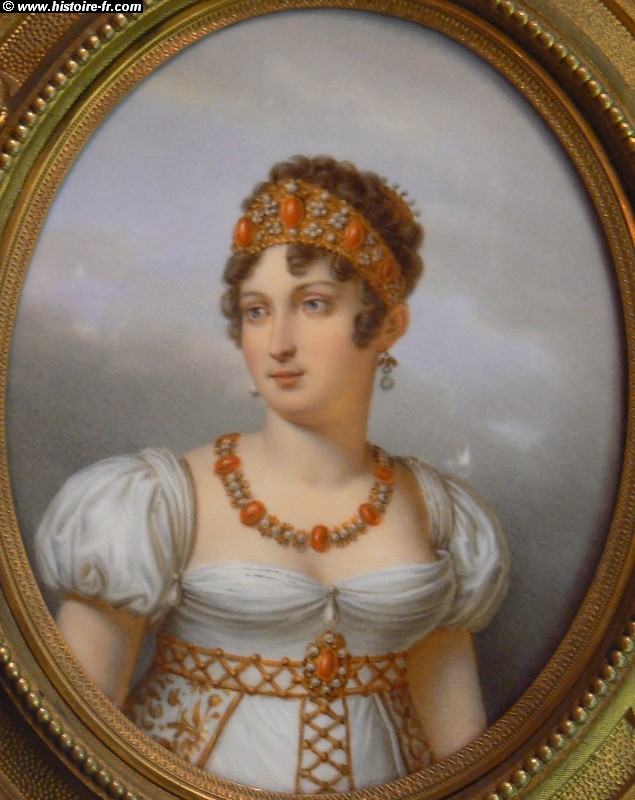 Caroline Bonaparte, beginning of the 19th century. Carnavalet museum, Paris.
What would it be like growing up as
Napoleon Bonaparte's
little sister? Just ask
Caroline Bonaparte
, his youngest sister. Everyone has heard of her big brother, the Emperor of France, but did you know that Caroline was a queen? She and her first husband, Joachim Murat, were the Queen and King of Naples in the early 1800s.
Caroline was born in Corsica, but moved with her family to France during the French Revolution. She was an educated young lady who attended the St. Germain en Laye school in France. Several years after moving to France, at the age of 17, she fell in love and married Murat. Her husband was a general who worked for Napoleon and at first Napoleon did not approve of the marriage. Eventually the couple became the King and Queen of Naples and had several children.
Caroline lived during a very interesting time, having witnessed the French Revolution and the Napoleonic Wars. She came from a prominent family and managed to rise even further in power. Even though her brother Napoleon is much more recognizable, Caroline was a significant figure in European history herself.
There are many rumors and stories about Caroline Bonaparte, including rumors of adultery and other scandals. In spite of these negative stories, she was still respected for her power and beauty. Caroline died in Italy in 1839, but still has descendants living today.