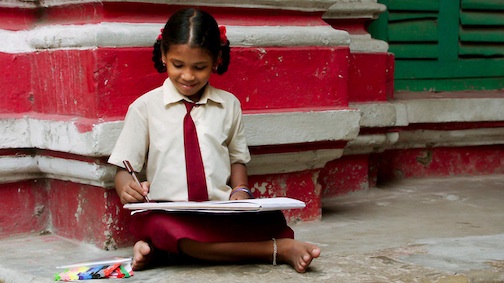 Ruksana lives on the streets of Kolkata, India. Despite this, she excels in school, particularly in mathematics and geography.
When we talk about educating girls, we often talk about the
economic and societal benefits
. With girls' education, we see improvements in health and nutrition (particularly in children), reductions in both child and maternal mortality rates, expanded societal roles for women, and economic expansion and growth.
These, and the many other tangible and intangible benefits, are all excellent reasons for ensuring that girls everywhere receive an education. But they all neglect a key element to educating girls: they are human beings, and as deserving of an education as any boy. We often ignore the humanness of girls, their dignity, and instead focus on the more quantifiable benefits of educating them. While these are valid arguments, it would be nice if those in charge of making policies would consider girls' education as a priority because it's the ethical thing to do, not because it's the economically sound thing to do.
If you're interested in reading more about this,
Tabby Biddle
wrote an
excellent column
on this subject. You can learn more about
Girl Rising
,
the film that inspired her column at the previous link or on the
10x10
website. You can read more on the economic and social benefits to girls' education at
The World Bank
.
-Katie Weidmann
Junior Girl
Girl Museum Inc.