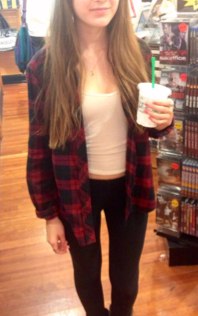 15 year-old Sarina Frauenfelder in her "shameful" outfit.
On Sunday,
Boing Boing
founder Mark Frauenfelder's 15 year-old daughter was flying, along with other high school students, from LAX to tour some universities. Before she even boarded the plane, however, she was verbally abused and made to feel shamed by the TSA agent checking her ID. According to texts she
sent her father
after the incident:
She said the officer was "glaring" at her and mumbling. She said, "Excuse me?" and he said, "You're only 15, COVER YOURSELF!" in a hostile tone.
She was dressed in the outfit above. However, as Mark and others have said, what she was wearing is beside the point. The job of the TSA is to protect our airports and ensure our flights are safe, not to judge others (or sexualize them) on what they choose to wear. The officer was in a position of authority, and he abused his authority when he chose to humiliate someone–doubly so when her outfit was in no way a potential security concern.
Mark and his wife have met with the TSA at LAX, and an investigation into the incident has been opened. Hopefully they will take this incident, and others like it, seriously, as it is attitudes like this that perpetuate victim blaming.
You can read Mark's take on the incident
here
, and Maureen Herman, co-founder of
A is For
, a women's rights advocacy group, offers her opinions
here
.
-Katie Weidmann
Junior Girl
Girl Museum Inc.